Tiny Camera, Big Image
This week, we're looking at a very unusual camera: the BlackMagic Pocket Cinema Camera.  The first, much larger, BlackMagic Cinema Camera was released in 2012 and it immediately made waves in the filmmaking community.  BlackMagic's cinema line of cameras cameras don't look like hybrid cameras or camcorders – they've rejected the body styles of both in order to create a device focused solely on capturing images.  That means that they lose out on some of the handling and ergonomic benefits of those kinds of cameras.  However, when it comes to capturing high quality images, BlackMagic cameras do their job very well.  They also do so at a price point much lower than most of their competitors.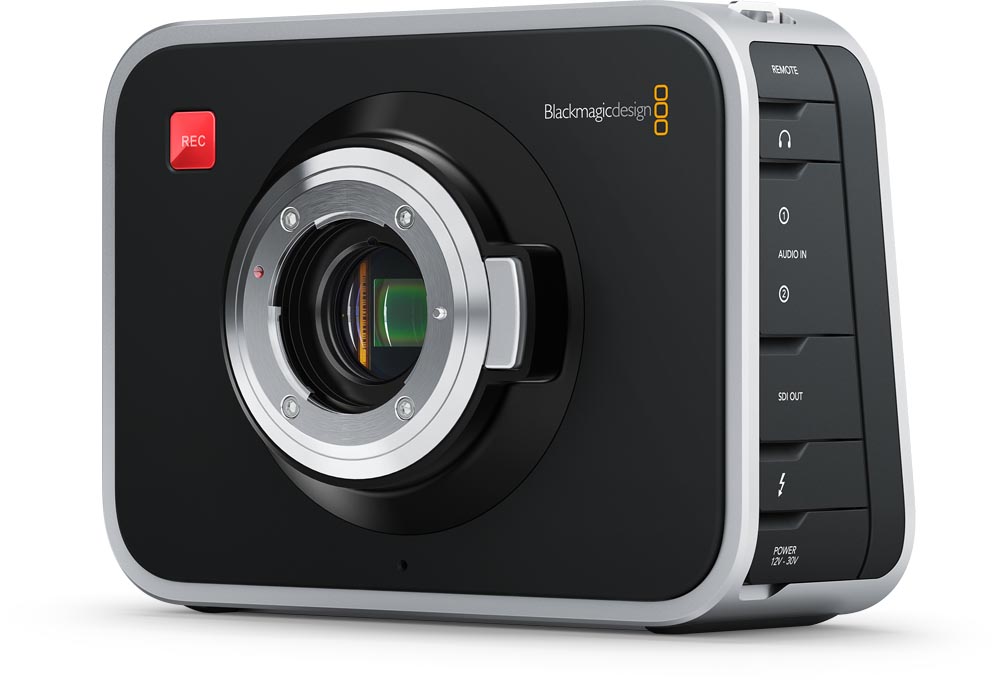 The BlackMagic Pocket Cinema Camera (let's call it the BMPCC for short) was released in 2013 and it seems like it was designed with the goal of addressing some of the complaints about the larger Cinema Camera.  It's much smaller and lighter, it uses standard rechargeable camera batteries, and it records to SD cards instead of hard drives.  It also retains a lot of what made the original Cinema Camera so enticing: it captures very high quality images in more robust file formats that can be color graded in a professional environment.  It can capture raw video – that is, video that has not been compressed – or ProRes video, which is a compressed, but still high quality format.

The resulting camera is… weird.  It looks like a compact point-and-shoot stills camera, but it uses much larger lenses and doesn't actually capture stills.  The body itself is, in fact, probably small enough to fit in most pockets, but the camera is at its best when it is heavily accessorized, limiting its portability (more on this below).  It has a beautifully designed and intuitive menu system, but those menus are limited and difficult to navigate with the controls on the camera body.  The BMPCC is a camera of contradictions.
The Good and the Bad
Let's address some of the BMPCC's shortcomings, because they are significant.  First of all, the battery life on this camera is terrible.  Under normal shooting conditions, you will probably be able to use the camera for about 45 minutes before needing to change batteries.  Fortunately, the batteries recharge fairly quickly and you can also power the camera using a larger external battery with an adapter.  Still, whenever you use this camera, you should bring backup batteries and the charger.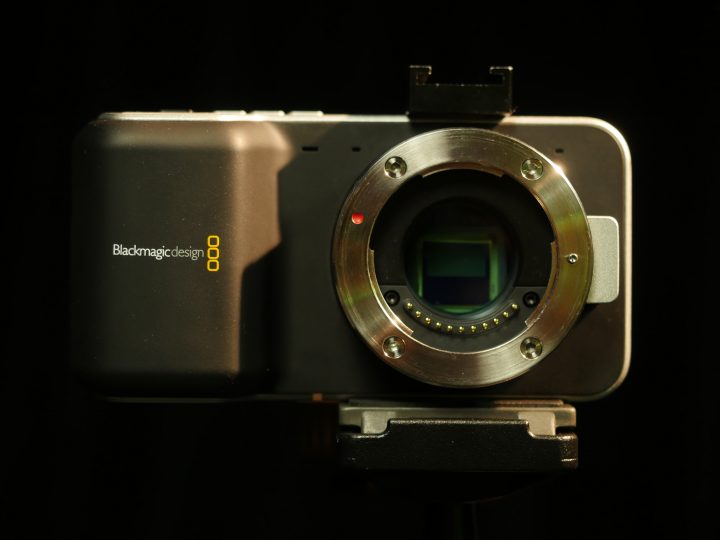 The camera's audio options are pretty limited; it has a 3.5mm microphone input and a headphone jack, but no XLR inputs with phantom power and independent level control like you'd find on a high end video camera.  Even with an XLR adapter, the audio pre-amps on this camera are pretty bad, so it's best to capture sound to an external recorder.
The body of the camera is compact, but as a result, it's not an especially comfortable camera to hold and use.  The lightweight body makes heavier lenses feel unwieldy – ironically, the "pocket" camera performs best when mounted on a tripod.  The small body also means that the external buttons and controls are limited.  You can adjust the aperture using buttons on the back, but you need to dig into the menus to change the ISO, white balance, and shutter speed.  There is a dedicated focus button, but the autofocus is so slow and inconsistent that you probably won't use it.  The buttons also cannot be customized.
It doesn't have any slow motion settings.  It doesn't capture 4K, only HD.  It's not very good in low light.  It isn't weather-sealed or particularly rugged.  It has no viewfinder, only a dim rear screen that becomes useless in bright sunlight.
Finally, while the camera uses Micro Four Thirds lenses, it actually has a smaller sensor – roughly the size of Super 16mm film.  That means that the crop factor on this camera is 2.88x, instead of the 2x you find on other Micro Four Thirds cameras (like the Panasonic GH3 and GH4).  This means that it's very difficult to get any wide angle shots on this camera, since you need an incredibly wide lens.
To summarize, the camera is slow, inconvenient, and "fiddly."  It has a body a bit like a hybrid camera's, but misses out on a lot of the benefits that hybrid cameras carry with them.  It purports to be a video camera, but misses out on a lot of those benefits too.  So why do people use this camera?
BlackMagic Design named this device the Pocket Cinema Camera and, while the "pocket" designation is dubious, the "cinema" label is not.  This is a camera that was designed to capture cinematic images and it does so beautifully.  The sensor is small, but high-quality.  The files captured – whether raw or ProRes – have a lovely, natural, "filmic" quality to them, especially when the camera is paired with a good lens.  Those files are much larger than what you would get on a GH4 or AF100, but they also hold up to color grading and manipulation much better.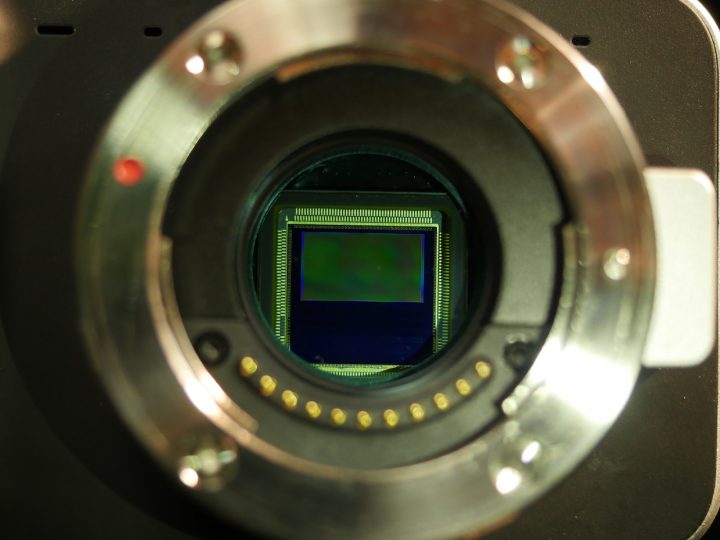 In terms of image quality, the BMPCC actually performs better than many cameras that are much more expensive and full-featured.  If you stop thinking of it as a full camera and use it as a sensor around which you can build up a cinematic system – adding a good lens, battery solution, rigging, stabilization, an external monitor, and audio recorder – you'll be able to take full advantage of its capabilities.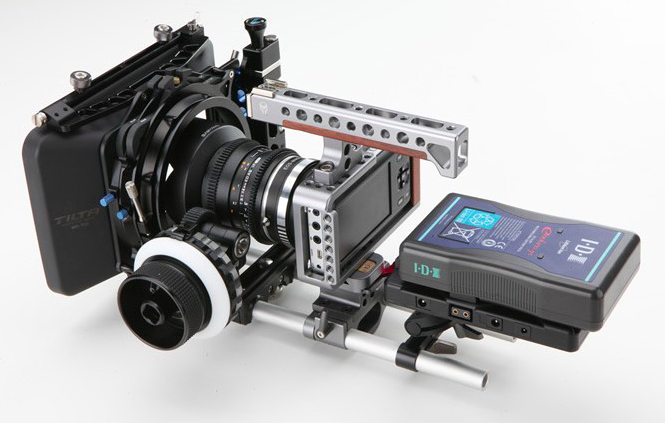 Using the BMPCC
Both the battery and memory card slots are located beneath a door at the bottom of the camera.  Again, bring plenty of both, because this camera chews through media and batteries with abandon.  You'll also need fast memory cards to keep up with the data rates required by this camera.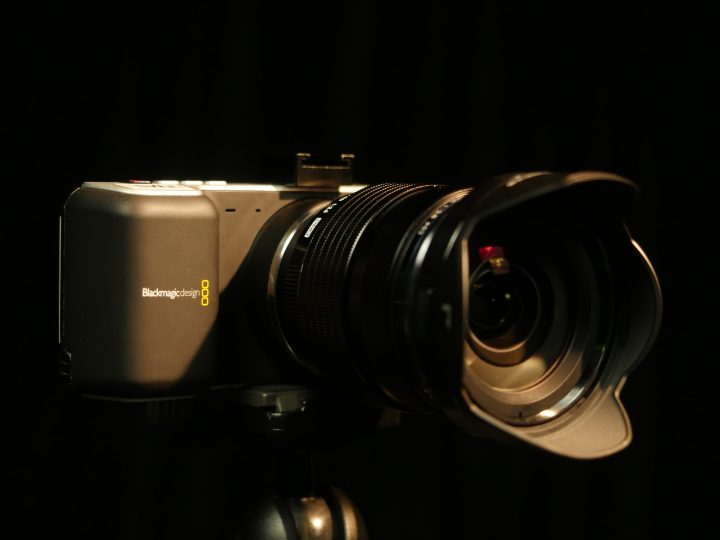 On one side, you'll find the inputs and outputs: remote cable, headphones, microphone, micro HDMI, and external power.  On the top of the camera are the record button and playback controls.  On the back are buttons for power, accessing the menu, iris control, and autofocus, as well as a directional pad and OK button.  Those are all of the external controls on the camera.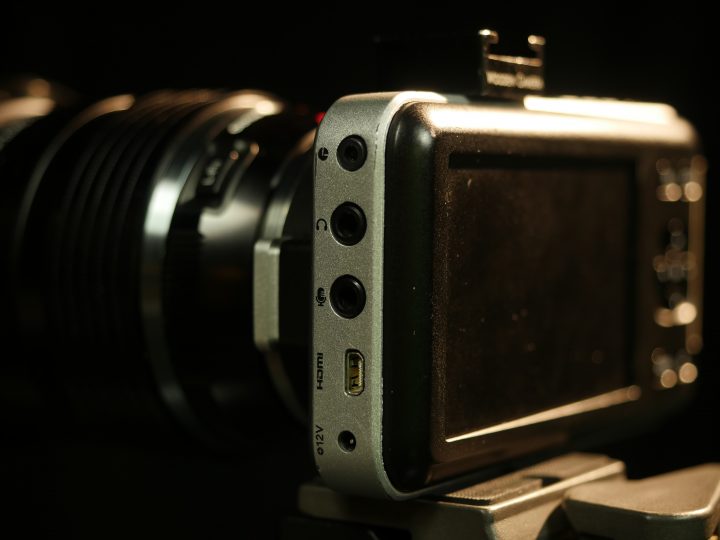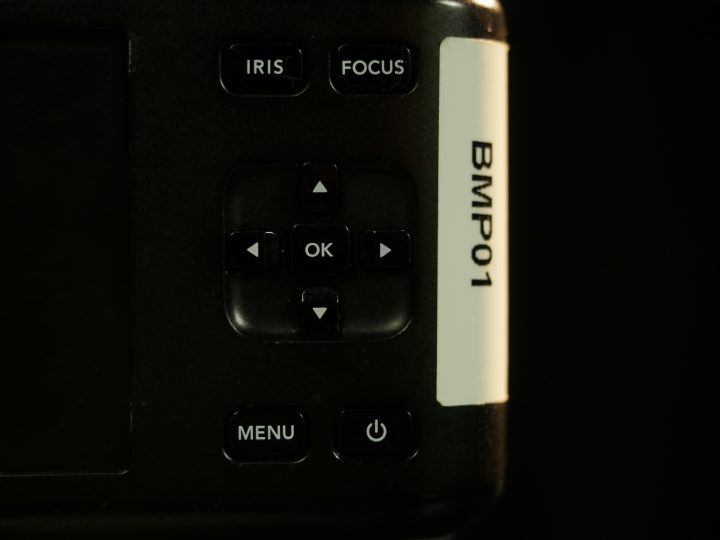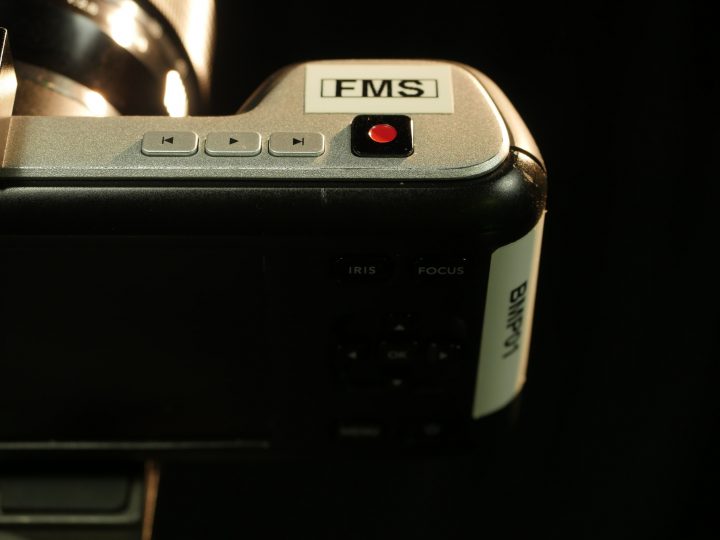 Opening the menus, you may be struck by how different BlackMagic's interface looks when compared to other cameras.  It is clean and modern, with clear labels and a logical layout.  In the Metadata section, you can embed textual information into the files, but doing so using the directional pad is so time-consuming that you probably shouldn't bother.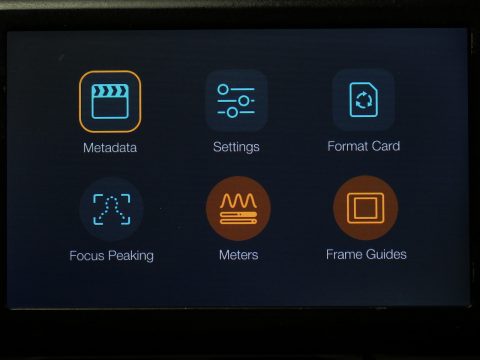 In the settings menu, you'll find sections labeled Camera, Audio, Recording, and Display.  In Camera, you can set the date and time (for some reason) and change the ISO, white balance, and shutter angle.  The audio section lets you control the microphone input levels – but, again, the in-camera audio should really only be used as a scratch track.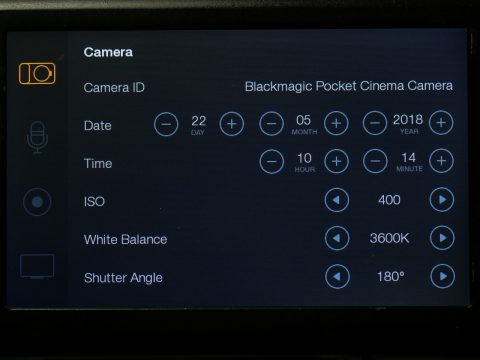 The Recording section has some interesting options to play with.  The Recording Format setting allows you to select RAW or several flavors of ProRes.  In my opinion, ProRes 422 offers the best combination of high quality files with sizes that aren't prohibitively huge.  For the absolute best quality, choose RAW or ProRes HQ.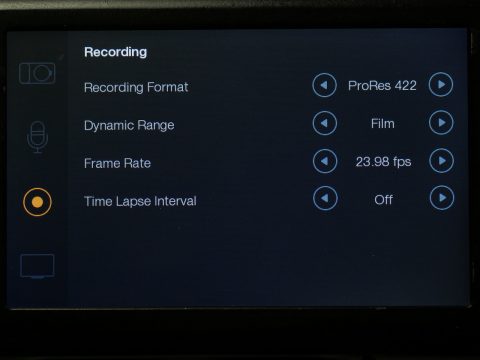 The Dynamic Range setting allows you to choose between Film and Video.  Both settings will result in footage that is less saturated and contrasty than you might be used to seeing – the Film mode in particular is very flat.  While this look may seem unappealing at first, the footage really comes alive when you bring it into post-production software and do some color grading to it.  For the most flexibility in post, use the Film mode; for footage that looks a bit better right out of the camera, use Video.  You also set your frame rate in the Recording section.  There is a time-lapse mode there as well, but hybrid cameras are generally better-suited for time-lapse.
The Display section lets you control the brightness of the rear screen and adjust the zebras exposure guide.  It also has its own Dynamic Range setting; if you have it set to Film in the Recording section, you can switch the display to Video to show what lightly color graded footage would look like.  For simplicity's sake, I'd recommend leaving the Display Dynamic Range set to whatever the Recording version is.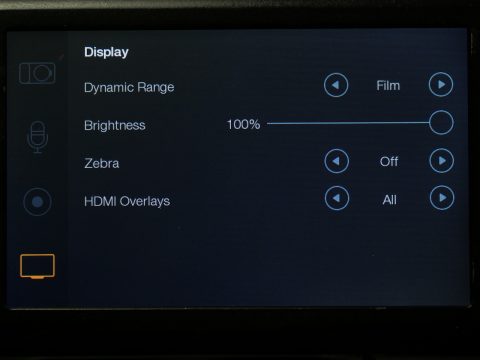 In the main menu page, there are also options for formatting the SD card, turning focus peaking on and off, turning exposure and audio meters on and off, and toggling frame guides.
In my experience, most people who use the BMPCC regularly develop a sort of love/hate relationship with it.  It has a clean, thoughtful user interface in a cramped, awkward camera body; it combines beautiful image quality with terrible battery life and a limiting crop factor; it's incredibly compact and light, but nearly impossible to use without a ton of accessories.  It's a weird camera, but also a fun one.