What's In A Lens?
Let's discuss some of the basic properties of camera lenses.
A camera lens is primarily defined by three qualities: its focal length (or focal range), maximum aperture (or maximum aperture range), and mount.  A prime lens only has one focal length; it cannot zoom in and out.  As mentioned in the last lesson, the focal length is the distance from the point of light convergence within the lens to the camera sensor.  This distance determines the angle of view that the lens is capable of taking in.  A zoom lens can be set to different focal lengths to change the angle of view.  Generally speaking, zoom lenses are more convenient and prime lenses create higher quality images.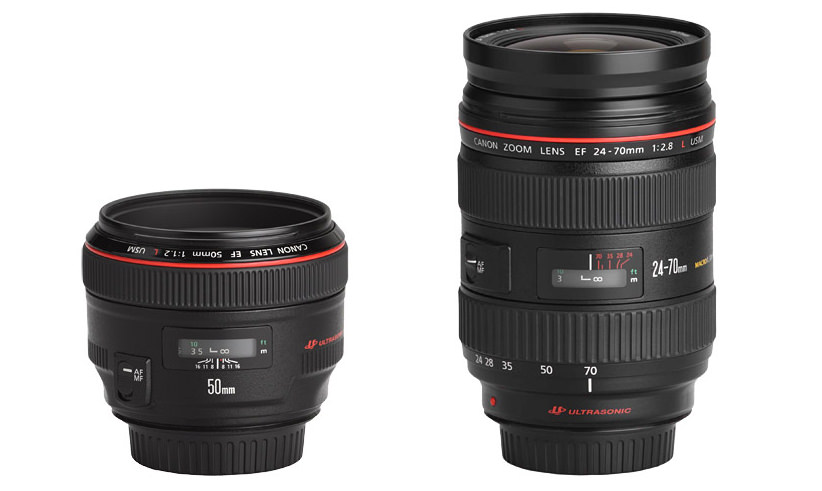 The maximum aperture of a lens is the measurement of how wide the iris of the lens can open.  It is, confusingly enough, measured in a ratio: the focal length of the lens divided by the diameter of the aperture opening.  The resulting number is called the f-stop and most lenses use the following sequence: f/1.4, f/2, f/2.8, f/4, f/5.6, f/8, f/11, f/16, f/22. Again, a smaller number f-stop is a larger aperture and a larger number f-stop is a smaller aperture.  Speaking very generally, a lens that can open its aperture to f/2.8 or wider is considered "fast" and a lens that can only open to f/4 or narrower is considered "slow."
The bizarre sequence of numbers used to measure f-stop represent stops of light – going from f/2 to f/1.4 doubles the amount of light and going from f/4 to f/5.6 halves the amount of light entering the camera.  Each sequential number is (approximately) the previous number multiplied by 1.4.  It's admittedly confusing and the math isn't really important.  What is important is that you understand that an aperture of f/2 is wider than an aperture of f/8.  The f/2 will let in more light and create a shallower depth of field.
You will sometimes see lenses that measure aperture in t-stops instead of f-stops.  The "t" in t/stop stands for transmission – it's a measurement of the actual amount of light coming through the lens.  T-stops are used to account for the optical imperfections that might make lenses with the same f-stop behave slightly differently.  T-stops use the same sequence of numbers and the two terms can be used fairly interchangeably.
Finally, the lens mount determines what kind of camera it can be attached to; this is usually specific to the camera manufacturer.  Canon uses the EF mount; as well as EF-S, for crop-sensor exclusive lenses (more on that later); and EF-M, for their small mirrorless line.  Vintage Canon lenses use the FD mount and aren't compatible with newer cameras.  Nikon uses the F mount, as well as the G mount, which is the essentially the same thing without a manual aperture control ring.  Sony uses the E and A mount; Fuji uses the X and G mount; Pentax uses the K mount; Leica uses M and R; and Olympus, Panasonic, and some BlackMagic cameras use the Micro Four Thirds mount.  There are also high-end PL mount cinema lenses and tons of old-school options, such as the M42 and C "screw on" mounts.
That's a lot of different lens mounts and a lot of random letters.  The most important takeaway is that there are many different kinds of lenses for different kinds of cameras– if you just say "Nikon mount" or "Fuji mount," you will probably be understood just fine based on the context.  Micro four thirds is interesting because it's a standard used by multiple camera makers.  In our collection, we have mostly micro four thirds and Nikon lenses.

Adapters and Focal Reducers
When you use a lens on the camera mount for which it was specifically designed, we say that is a "native" lens.  If you wanted to use a native lens on one of our Panasonic GH4 cameras, you would select a micro four thirds lens.  When you use a lens that was designed for a different camera system, we say that it is an "adapted" lens.  Adapted lenses require the use of – you guessed it – an adapter and not every lens can be adapted to every camera.
Native lenses usually offer the most functionality; many lenses have electronic connections to the camera for things like aperture control, autofocus, and image stabilization.  When you connect a lens to an adapter, you often lose that functionality.  However, some lens adapters offer other benefits.  For example, our Metabones Nikon to micro four thirds adapters actually have glass elements in them that help gather more light and increase the angle of view.  The use of adapters allows us to use one set of high quality Nikon mount lenses on our Sony, BlackMagic, and Panasonic cameras.  Since these particular lenses are fully manual anyway – they have no electronic controls – we don't lose out on any functionality by adapting them to other cameras.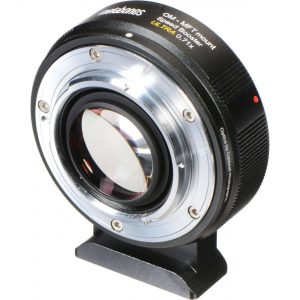 Coverage and Compatibility
Adapting lenses is extremely helpful because it really expands your toolset.  You can use one set of lenses across lots of different cameras!  However, not every lens can be adapted to every camera.  We'll talk more about sensor size in the next lesson, but some lenses are designed for smaller sensors and just aren't physically large enough to cover bigger ones.
Flange distance is also a concern: different cameras are designed to have their respective lenses mounted different distances from the sensor.  You can't put a lens with a long mount on a camera with a short mount – there just isn't room.
What all of this means is that some lenses are more easily adapted and some cameras can more easily accept adapted lenses.  Cameras with a micro four thirds mount (like our BlackMagic Pocket and Panasonic cameras) can accept lots of different lenses using various adapters because of the mount and sensor size.  We also own lots of Nikon mount lenses – even though we don't own any Nikon cameras – because the mount, sensor coverage, and manual controls make Nikon lenses easy to adapt.
Filter and Hoods
Most lenses have a threaded area at the very front that can be used to attach filters and other accessories.  Since lenses vary greatly in size, these filter threads can be found in a variety of sizes as well.  Filter threads are measured by diameter in millimeters – which can be confusing, since focal length is measured in millimeters as well.  For example, our Panasonic 12-35mm zoom lens takes 58mm filters, so all three numbers (as well as the aperture) can be found on the front of the lens.  You can usually identify the filter size by an icon that looks like a circle with a line through it.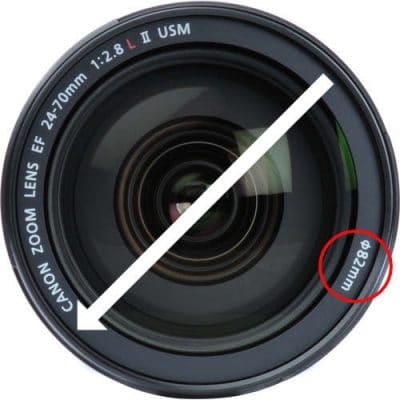 There are many different kinds of filters that can be attached to a camera lens.  Some of the most widely used are ND filters, which cut down the overall amount of light entering the lens – ND filters are like sunglasses for your camera.  There are also circular polarizers, which can be used to cut down on glare and reflections and tinted filters, which can be used for specialty shots.
Many lenses also have hoods as optional accessories – and a few have hoods permanently attached.  Lens hoods help to cut down on things like flares from direct light sources.  Hoods may be attached either using the filter threads or using a "bayonet mount" on the outside of the lens barrel.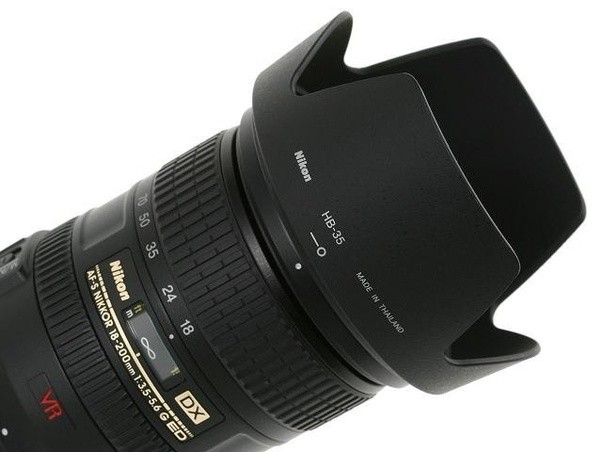 Cinema Vs. Stills
Generally speaking, lenses designed for stills-photography cameras work just fine for video as well.  However, there are lenses that have been designed specifically for video use that have some added benefits. The most noticeable difference is that cinema lenses usually have gear teeth on their focus and aperture rings.  This allows the lenses to be used with a follow focus (a tool used for precisely changing focus during filming) without additional accessories.
Cinema lenses also have click-less aperture rings.  Many stills lenses don't have aperture rings at all – on most Canon and Panasonic lenses, for example, the aperture is controlled electronically using a dial on the body of the camera.  Cinema lenses have aperture rings on the lens itself – and that ring can be adjusted smoothly, without clicked stops at the different settings.  This allows a camera operator to subtly adjust the aperture while filming.  The aperture on a cinema lens is also measured in t-stops instead of f-stops – the numbers used are the same, but t-stops represent an accurate, measured amount of light that takes into account light lost due to optical imperfections.
You might also notice that the markings on a cinema lens are usually on the side of the lens, rather than the top.  This is so that a separate operator can see and adjust the lens settings.
Finally, some cinema lenses are available as a set with front filter threads that are the same size.  This allows the same accessories to be used on multiple lenses.  Because of this, cinema lenses tend to be larger and heavier than stills lenses.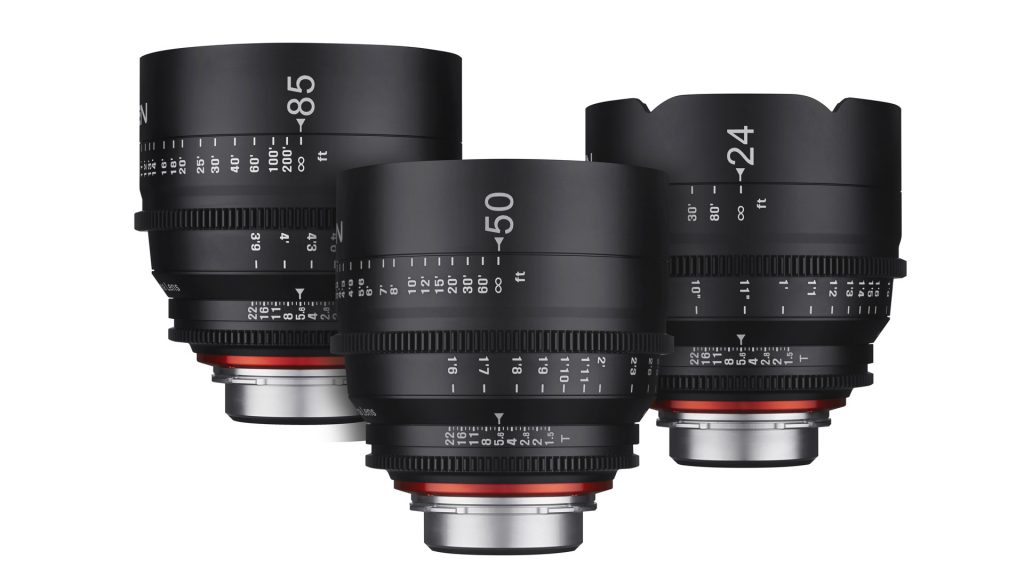 Lenses may sound complicated, but remember that we're really only looking at a few things: how wide or zoomed in the lens is (the focal length); how much light the lens lets in (the aperture); and how the lens attaches to the camera (the mount).  We usually use these three factors when describing a lens – you might ask for a Nikon 50mm f/1.4, or a Panasonic 12-35mm f/2.8.
Want to learn more – much more – about camera lenses?  Check out the following three videos from Filmmaker IQ: