Moving That Camera
Here are some of the tools we have in our collection for smoothly moving a camera forwards, backwards, and side to side.
Tripod Dolly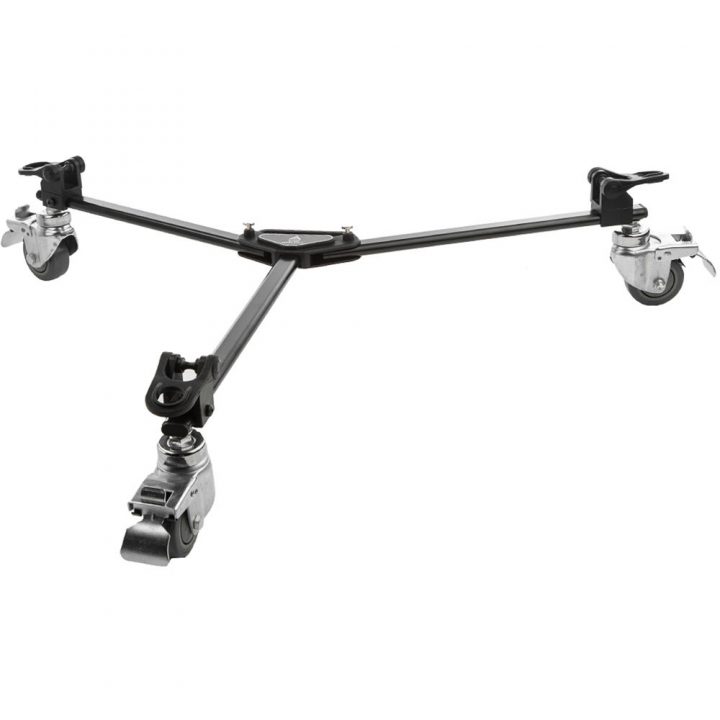 We've used the tripod dolly several times already – it's a simple wheeled platform that allows a tripod to be moved quickly.  The wheels can be locked in place to prevent movement.  While the tripod dolly is very convenient, it doesn't provide very smooth movement; the wheels are fairly small and don't spin evenly.  The tripod dolly is really a tool designed for moving the camera between shots, not during shots.  However, if you are on a very smooth surface (such as a linoleum floor) and you use the tripod dolly carefully, you can get relatively smooth shots.
Doorway Dolly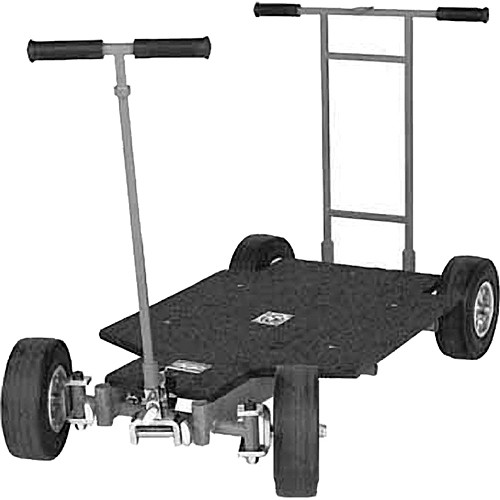 The "doorway dolly" is a large wheeled platform that can handle a good deal of weight.  It's designed to fit through an average-sized doorway (hence the name).  There are handles on the front and back, a steering column, and platforms that can be attached to the side for a larger base.  The wheels are large and soft, which makes the movement much smoother.
The best way to use the doorway dolly is probably with a camera on a tripod and a camera operator on the unit itself.  One or more other person can carefully move the dolly.  This obviously requires a good deal of coordination, but it gives you a large smoothly moving platform that doesn't require a track.
Ladder Dolly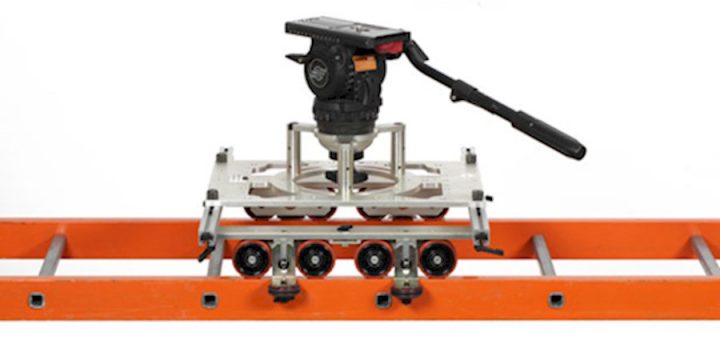 The ladder dolly is large slider that mounts to a horizontal ladder.  As long as the ladder is well-secured, the platform is very stable and can take a lot of weight.  The ladder dolly that we use has a bowl mount for easy leveling – we use the same mount on our small crane.
The ladder dolly is a large and cumbersome piece of equipment, but it's probably the best way to smoothly truck a heavy camera along a fixed track.
Track Slider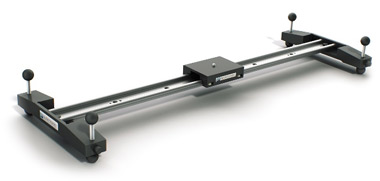 Our large slider is a pretty simple device – a long track with a base that slides along it.  It can be set on the ground or mounted on a pair of tripods or light stands.  Because it's so long, getting this slider level can be a challenge.  You also need to be careful not to put too much weight on the track, as it could start to bow in the middle.
The long track slider is a powerful tool, but it can be challenging to use.  Since the mounting platform is moved by hand, you need to carefully control how much force you put on it.
Slider with Flywheel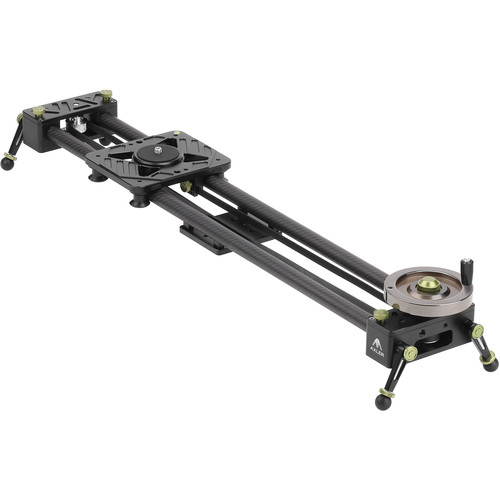 Our Axler flywheel slider is pretty short – less than three feet – but it can really add some cinematic movement to your footage.  The great thing about this slider is that it uses a rubber chain for movement instead of just friction.  This is looped around a weighted flywheel, which controls and dampens the movement – it smooths everything out.
Because you have a smaller track, you need to be thoughtful about how you arrange your shot – some movements just won't be very obvious.  However, if you get close to your subject or put objects in the immediate foreground, you can get a dramatic effect.
This slider is small enough to be mounted to a single large tripod, but just barely.  It can also be set on the ground or mounted to a pair of light stands or smaller tripods.
DIY Solutions
In addition to the kinds of professional equipment we have in our collection, there are lots of homemade solutions for this kind of camera movement.  A wheelchair is actually a very versatile piece of kit – the camera operator can sit in it and a second person can move them across a smooth floor.  The large wheels provide a smooth, stable base, and the operator can point the camera in any direction.  It works a lot like the doorway dolly, but it's smaller and lighter.
There are also lots of instructions out there for building your own slider.  Some of these use PVC pipes and other hardware store finds.  I've even seen filmmakers put a shirt or other piece of fabric on a table and use that for slider moves – it works better than you might think.
Whatever the case, remember that you don't necessarily need the best, most expensive equipment in order to get dynamic moving shots.  It just takes creativity and persistence.