Hybrid Life
Let's start diving into the specific features of the cameras in our collection.  This week, we're focusing on two very similar hybrid cameras from Panasonic – the GH3 and GH4.  I want to start with hybrid cameras for a few reasons.  First, these cameras are fairly straightforward to operate; there are lots of external buttons and dials for manual controls and most are labeled in a logical way.  Second, as these small cameras have become more powerful and more common, their use in video production has increased across the board; it's now very normal to see small hybrid cameras alongside (or replacing) dedicated video cameras on large and small productions.  Finally, these kinds of cameras are the ones you are mostly likely to purchase for your own use – or you may already own a stills-style camera with video capabilities.  Most recent stills cameras from Canon, Nikon, Sony, Panasonic, Olympus, and Fuji have the ability to record high quality HD video.
There are challenges to using hybrid cameras for video, however.  Put simply, a video camera was designed, first and foremost, to capture video – and stills-style cameras were not.  Stills cameras were designed to be portable and to be hand-held for exposures lasting only a fraction of a second.  Video cameras, on the other hand, need to be stable and they need to capture for a long period of time.  This is the reason that camcorders and stills cameras look different; they were designed to do two different things.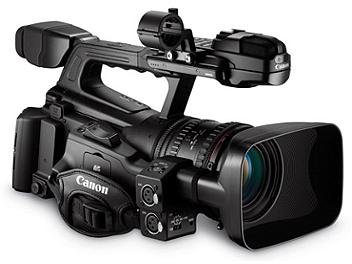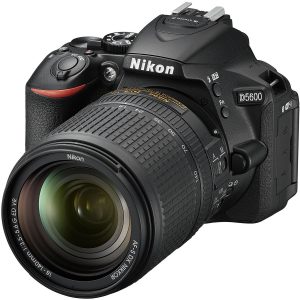 Audio is another big challenge for hybrid cameras.  Again, this goes back to the original purpose for these cameras: stills cameras were not originally intended to record sound and video cameras were.  A decent dedicated video camera will have advanced audio features such as XLR inputs, phantom power, physical controls for levels, on screen meters, and a headphone  jack for monitoring.  Hybrid cameras have gradually added more and more audio functionality, but it has been a very slow development and advanced audio features are still uncommon on stills-style cameras.  Most – but not all – hybrid cameras have 3.5mm inputs, but none that I know of have built-in XLR inputs.  Only high-end hybrid cameras have headphone ports for monitoring.  This severely limits your audio options, unless you are willing to add some additional accessories or record to an external device.
Rigging Nightmares
Of course, hybrid cameras are still very much worth using for video production – you just need to be thoughtful of their inherent limitations.  An entire industry has developed to supplement hybrid cameras with accessories designed to enhance their video capabilities.  Many of these items are expensive and over-engineered; a few are genuinely useful.
A quick search reveals all manner of horrifyingly over-built camera rigs.  You can even check out shittyrigs.com for a curated collection of the worst in DIY filmmaking.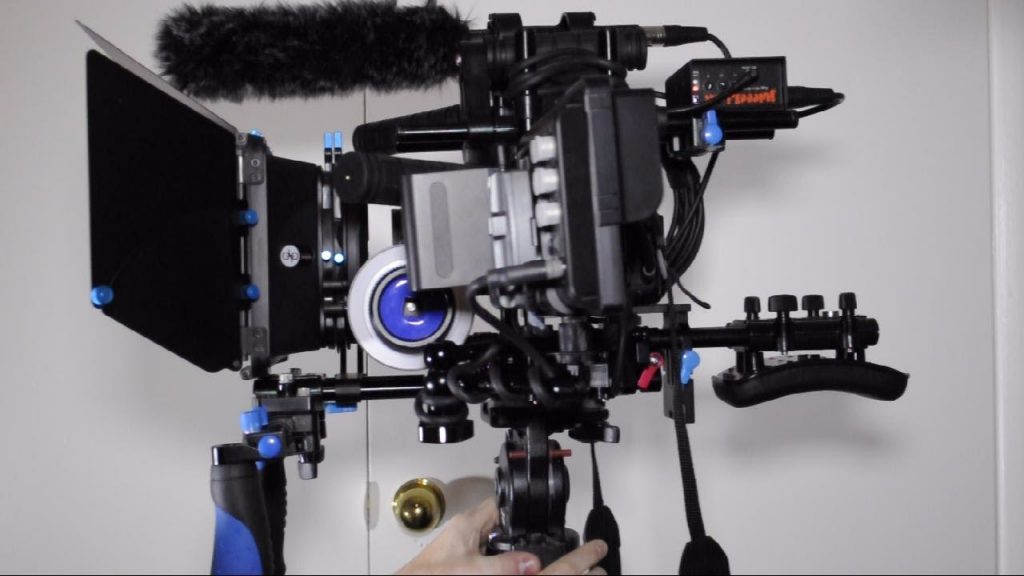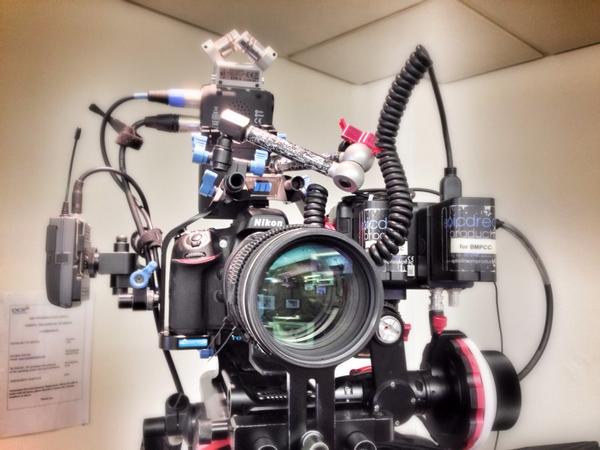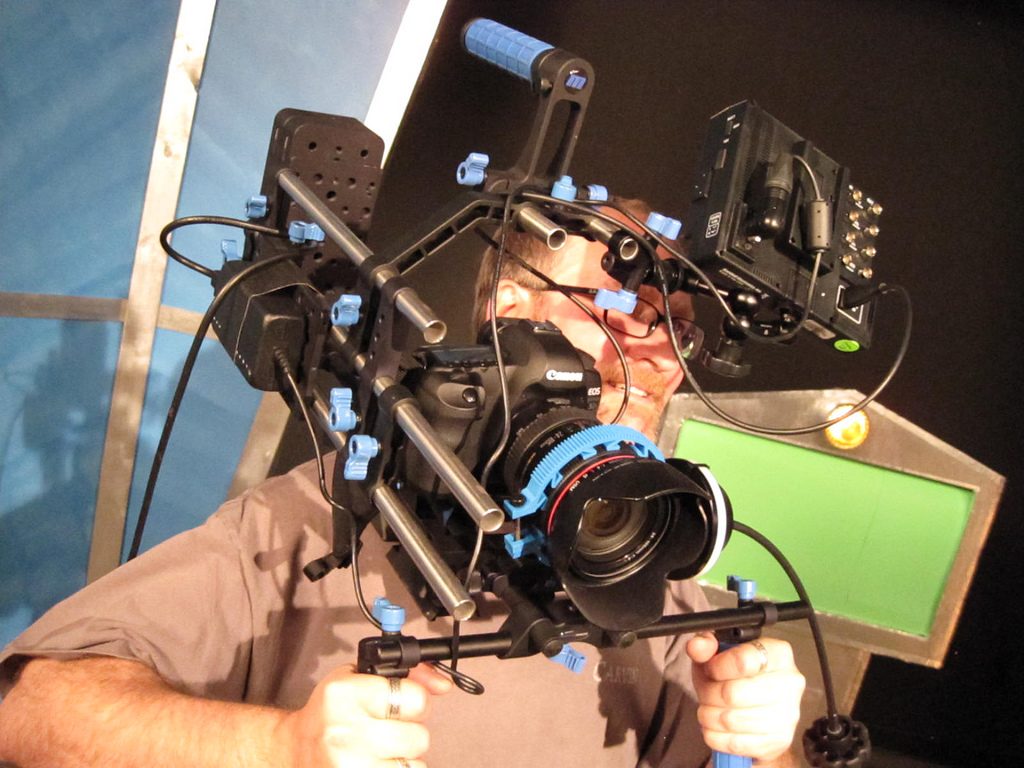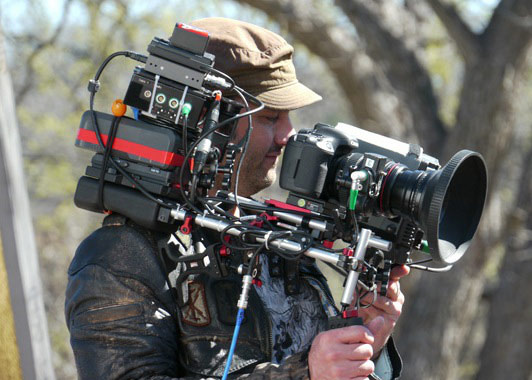 These unwieldy Franken-rigs are taking the "kitchen sink" approach to accessorizing a camera and ignoring some of the key benefits of using a hybrid: their size, weight, and  ability to be used discreetly.  They are also capitalizing on the potent desire that many photographers and filmmakers have – myself included! – to constantly purchase new gear.
That isn't to say that rigging a hybrid camera is always a bad idea, because it absolutely can be helpful.  However, you need to be mindful of what you're actually filming and how to most efficiently meet those needs.  We'll dig deeper into rigging cameras for movement later in the semester, but here are a few basics.
Cages and Rails
The easiest way to add accessories to a hybrid camera is using the flash mount – called a hot shoe – on the top.  You can use the shoe mount to add a microphone, light, small monitor, or other accessories.  However, the hot shoe isn't a particularly strong mounting point and if you want to add multiple accessories, you'll need another option.
A camera cage is a metal frame that adds more mounting points and provides a level of protection to the camera.  These can be generic or designed for a particular camera.  I have slightly mixed feelings about cages since they add functionality, but at the expense of weight and bulk.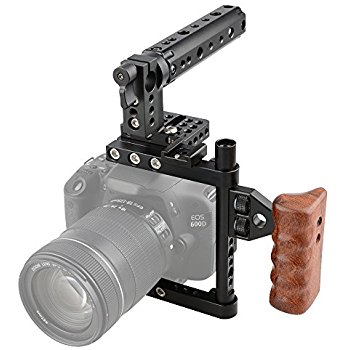 The other common option for accessorizing a camera is a rail system.  This is a standardized set of accessories that utilize 15mm rods to mount items such as a matte box, follow focus, handles, or shoulder pad.  Using various connectors and rods, you can basically build up whatever system you like for your camera.  Just try not to go overboard.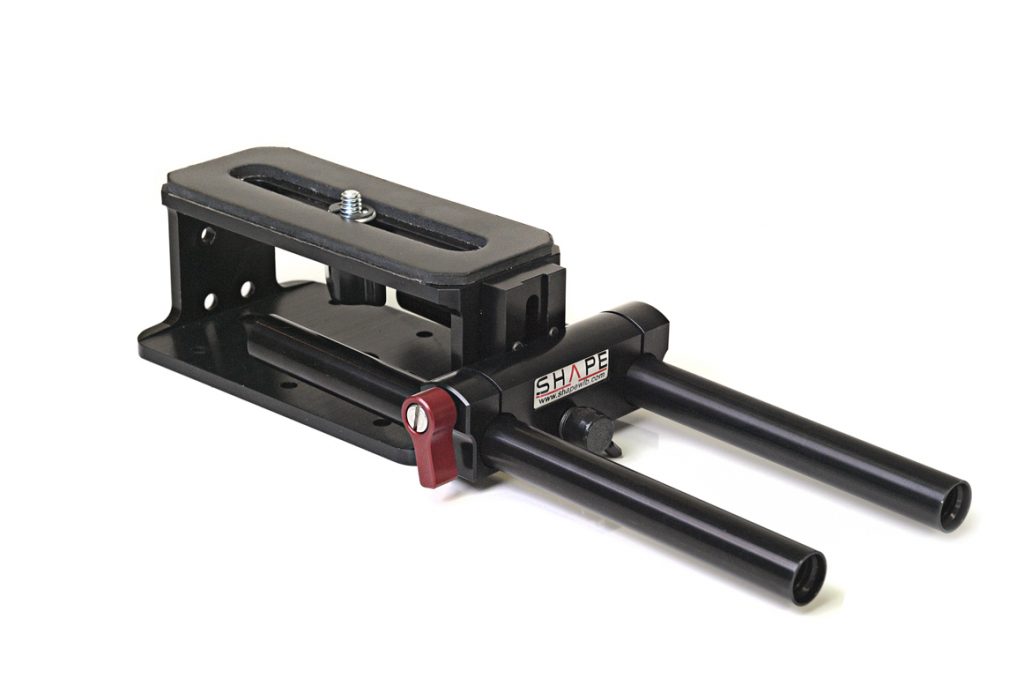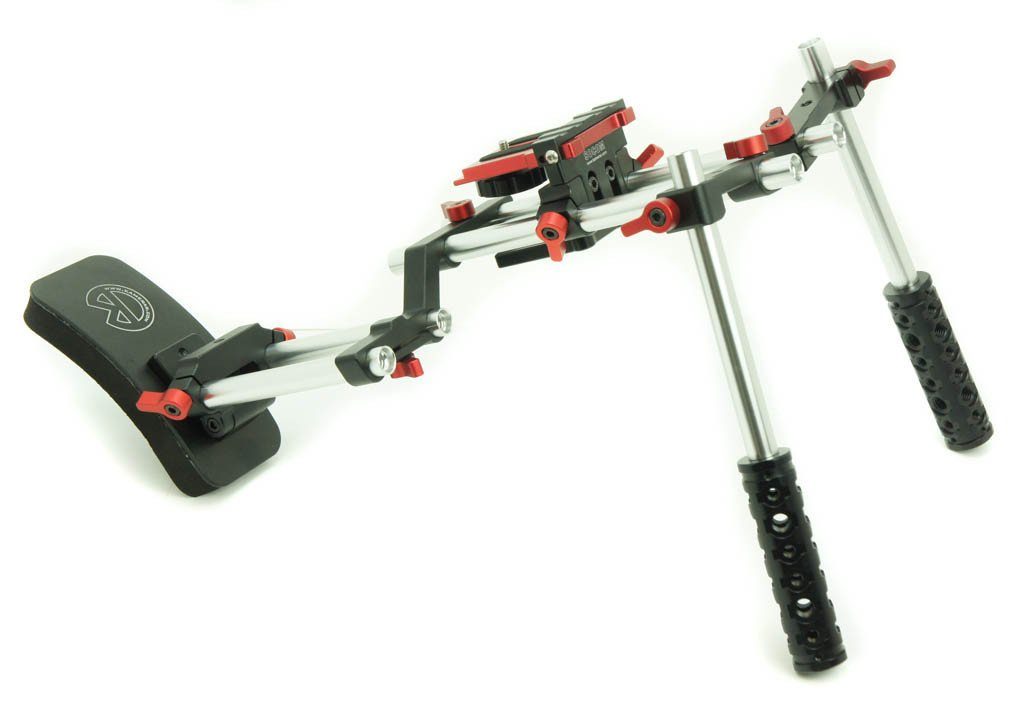 Again, think about what it is you're going to be filming and what accessories you need.  If you need to add a follow focus, then you need a rail system.  If you need to record audio, you could add a microphone using the hot shoe, or rig something onto a rail system, or record to an external device.  If you need more stability, you could add a shoulder rig, or use a pistol grip handle, or use a tripod.  Or you might not need anything!